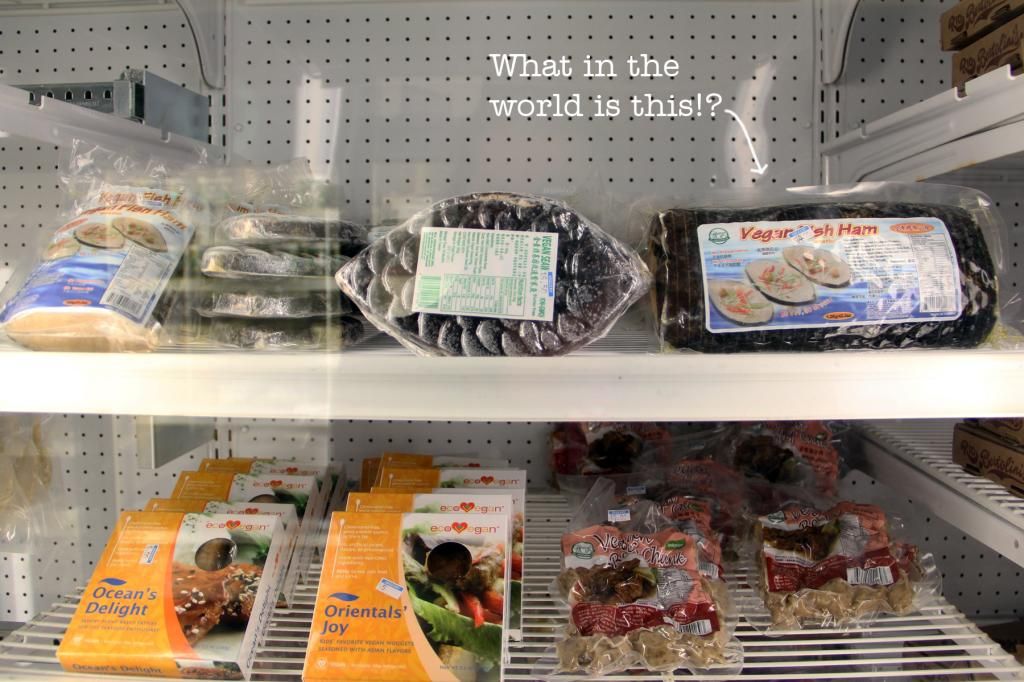 Spotted at the

7th Street Public Market: VEGAN FISH HAM. Some friends and I hit up the market for lunch last weekend. As we strolled through the market, checking out the various vendors, local farmers, and artisans, this strange food caught my eye in the vegan cooler section. Up until this point, I considered myself a somewhat adventuresome pescetarian. I've tried Tofurky (won't go there again) but must draw the line at Vegan Fish Ham. I did some research and found an ingredient list:Non-GMO Textured Soybean Protein, Non-GMO Soybean Protein (Powder), Wheat Protein, Starch, Sea Salt, Brown Sugar, Vegetable Oil, Vegetarian Seasoning (source).
While I appreciate the Non-GMO ingredients, I must say, this sounds like it would be utterly bland and unsatisfying!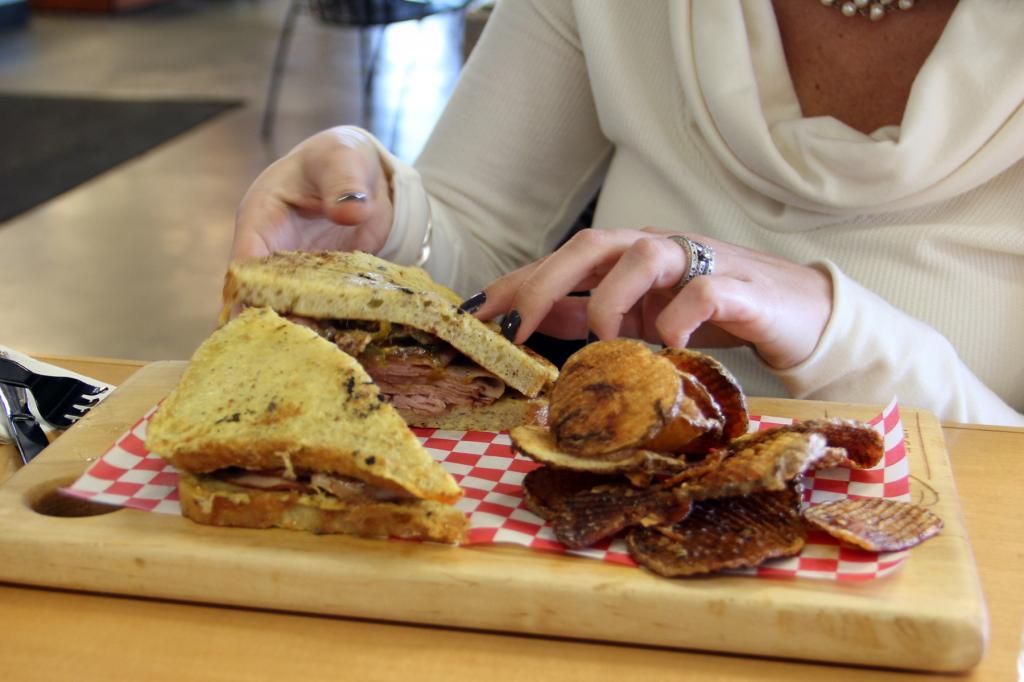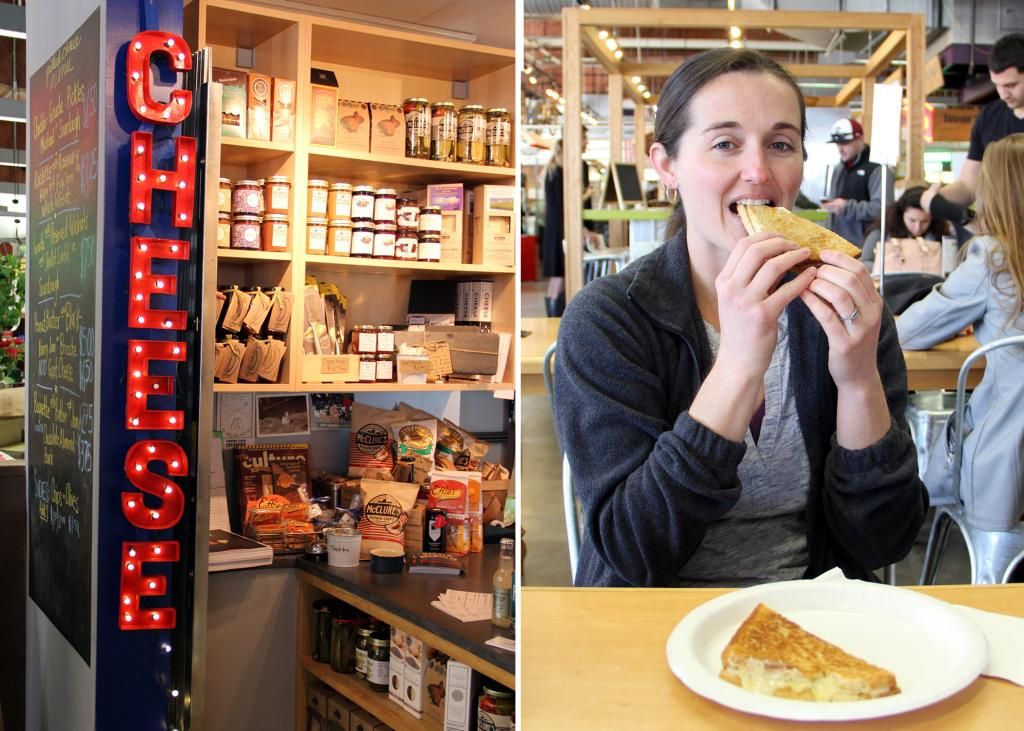 My girlfriends ate at

Local Loaf and raved about their meaty sammiches and homemade potato chips (I snatched a few and they taste somewhere in between crunchy chips and chewy french fries, AKA heaven). For me it was a grilled cheese at

Orman's Cheese Shop
. I've heard rave reviews about their grilled cheese and it was, in fact, incredibly delicious. I had the cheddar, gouda, pickes, and mustard on sourdough. The bread was just right--buttery and tender yet crunchy, and the cheese was marvelous--perfectly stringy with a slight smokey flavor from the gouda, and the pickles and mustard complemented beautifully with a delicious tang.
We finished the afternoon at the

Levine Museum of the New South

to explore their exhibits and activities in honor of Martin Luther King Jr. Day. My favorite display was about Charlotte photographers during the Civil Rights Movement. I am fascinated by the history of the Civil Rights Movement and love hearing stories about the people who helped move the revolution along. Photography from that era is so emotional, moving, and life-changing. The museum's permanent exhibit, Cotton Fields to Skyscrapers, presents a history of Charlotte through interactive displays and sets; it's really interesting to see how much this city has changed, yet in many ways, has stayed the same!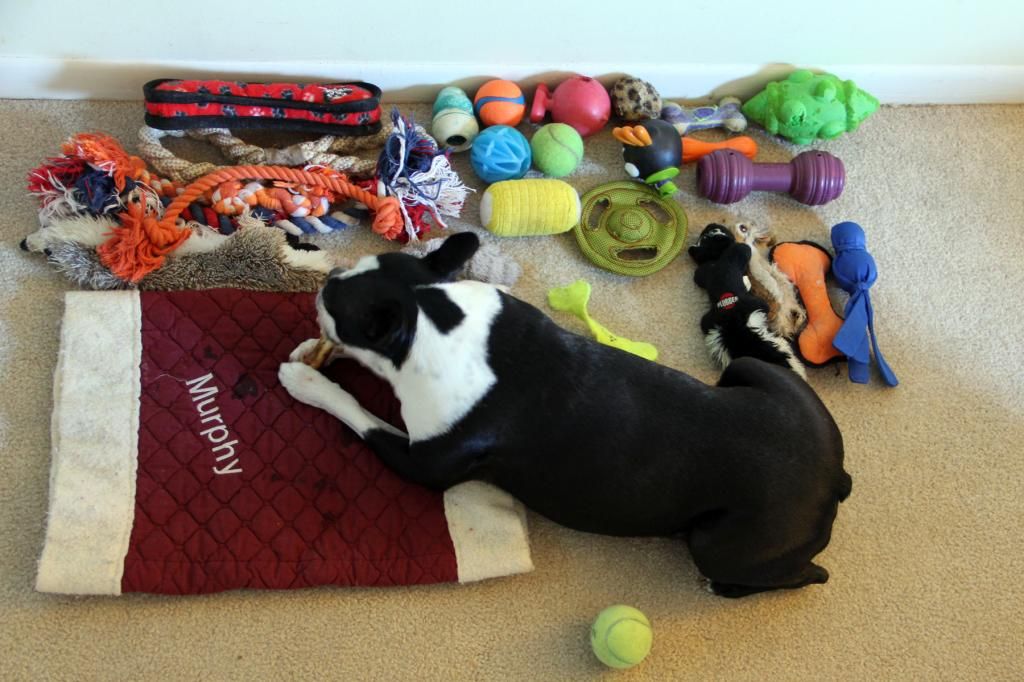 I'm jumping the gun on my weekly Murphy photo post, but I couldn't help snapping this shot of him caught in a bone trance, surrounded by his toy collection. I'm grateful for fun weekends filled with good friends, cute pups, and new adventures!